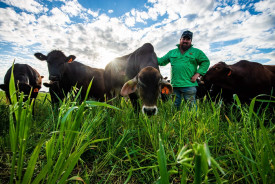 Regenerative Farmer, Halbury, South Australia
Tom farms alongside his wife, Cassi, and parents, Ashley and Kaylene, in Halbury, South Australia.
They grow small grains (wheat, lentils, barley, peas, canola) in their mild winters with an annual rainfall of 13-17" in a Mediterranean climate.
They use the appropriate application of plant nutrition to lower costs and maximise profitability.
They also run a cow/calf and trade steer herd on land that needs a biological boost using mixed species crops and a rotational grazing system.
Their business is a 100% no-till, controlled traffic farm with a focus on soil, plant and livestock health.