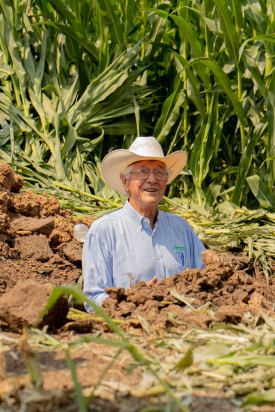 Ward Labs, Kearney, Nebraska
After graduating from Fairbury Junior College, Ray Ward continued his studies at the University of Nebraska, earning a bachelor's in 1959 and a master's in 1961. After graduation Ward went to work at South Dakota State University, where he attained a doctorate in 1972. Ray then went on to manage a research extension center in Redfield, South Dakota. Ward started two more labs: a research extension center for Oklahoma State University in Stillwater, Oklahoma, and a commercial soil testing laboratory for Servi-Tech in Dodge City, Kansas. Dr. Ray Ward went into business for himself and started Ward Laboratories, Inc. in Kearney, Nebraska in 1983. He still owns and operates the business and serves as the Chairman of the Board.
Ward Lab Company Bio:
Ray and Jolene Ward founded Ward Laboratories all the way back in 1983, initially operating out of a three-bay garage here in Kearney, Nebraska. Our team of highly qualified scientists, agronomists, livestock experts and other agriculture professionals have spent nearly four decades analyzing millions of samples and steadily earning a reputation for excellence with our domestic and international clients. Along the way, we gradually expanded our operations to meet the needs of our growing customer base. Today, Ward Laboratories occupies a nearly 32,000 sq. ft., state-of-the-art facility that allows us to process a high volume of samples and ensure the highest standards of accuracy and quality. We outgrew that three-bay garage a long time ago, but everything we do is still inspired by Ray and Jolene's foundational principle – to provide quality analytical results so customers can make informed decisions.