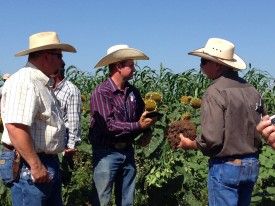 Posted

July 15, 2015

Soil health was the focus of a field day hosted July 14 by No-Till on the Plains at Mindemann Farms near Apache, Okla. More than 65 farmers and agricultural professionals attended to learn how continuous no-till cropping systems can reduce inputs, control pests and weeds, and increase soil nutrients for enhanced soil fertility.  

During a rainfall simulation and soil demonstration, Steve Alspach from Oklahoma Natural Resources Conservation Service, demonstrated raindrop impact and water infiltration using soil samples from no-till and conventional tillage fields. 

In a pit dug in a no-till field, attendees studied soil horizons and signs of life beneath the surface. Greg Scott, soil scientist from Tyron, Okla., showed how continuous no-till improves soil quality and structure, pointing out root structures, organic matter and the effects of microbiology. 

Guests visited fields where host Alan Mindemann grows cover crops to improve soil health. The group also examined a pollinator plot, which features a variety of flowering plants to attract bees and other beneficial insects.

Afternoon sessions took place at Caddo Kiowa Technology Center in Fort Cobb, Okla. Randy Taylor, Extension Ag Engineer for Oklahoma State University, discussed how machinery has evolved for increased capacity and effectiveness with no-till practices. 

Matt Alig, no-till farmer and livestock producer from Okarche, Okla., shared his experience with grazing livestock on cover crops in no-till fields. Jimmy Emmons, no-till producer from Leedey, Okla., concluded the day with a discussion on incorporating cover crops to improve soil health. He emphasized the importance of protecting and regenerating soil for future generations.

The event received support from Oklahoma Conservation Commission, Oklahoma Association of Conservation Districts, Oklahoma State University Extension, Texas A&M University AgriLife Extension, and the U.S. Department of Agriculture's Natural Resource Conservation Service. Event sponsors included Chisholm Trail Farm Credit and Green Cover Seed.

No-till farming systems offer several advantages to producers willing to implement the system. Fewer trips across fields without tillage passes will reduce fuel costs. Increasing crops in rotations breaks weed and insect pest cycles. Increased crop residue and root systems will increase soil organic matter and microbiological activity, thereby increasing the productiveness and fertility of the soil. Implemented in a site-specific systems approach, no-till will, over time, outperform conventional tillage.

No-till on the Plains offers field events, networking opportunities and the annual Winter Conference to provide crop producers with valuable no-till information. For more information, visit notill.org.
---