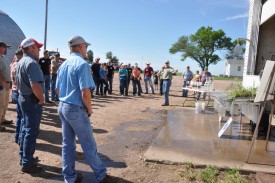 Posted

June 19, 2015

More than 50 farmers and agricultural professionals gathered for a field day at the Steve and Rachel Tucker farm near Venango, Neb., Wednesday, June 17. No-Till on the Plains offered the educational event to help attendees better understand how continuous no-till cropping systems improve soil health.

Attendees examined soil horizons in two pits dug in one of the Tucker's no-till fields. Dr. Ray Ward, President of Ward Laboratories in Kearney, discussed how continuous no-till improves soil quality and structure, pointing out differences in root structure, organic matter and the effects of microbiology in the two soil pits.

During a rainfall simulation and soil demonstration, Dan Gillespie, No-till Specialist for the Natural Resource Conservation Service in Norfolk, explained raindrop impact and water infiltration using soil samples from no-till and conventional tillage fields. Paul Jasa, Extension Engineer for Nebraska Extension, shared setup tips for no-till planting equipment and the importance of a system-based approach.

Attendees departed the Tucker farm for afternoon sessions at the Venango American Legion Hall. Mark Watson, continuous no-till producer from Alliance, Neb., discussed water conservation and irrigation management in no-till production systems. He also covered integrating field peas into his crop rotation.

Scott Ravenkamp, continuous no-till producer from Hugo, Colo., shared how his farm has incorporated cover crops and livestock grazing to improve soil health. Jasa, Ravenkamp and Watson concluded the event with a discussion on optimizing residue distribution and utilization on no-till fields.

The Venango Whirlwind Expo resulted from a partnership with The Nebraska Environmental Trust, Nebraska Extension, and the U.S. Department of Agriculture's Natural Resource Conservation Service. Event sponsors included Arrow Seed, CHS and Green Cover Seed.

 
---