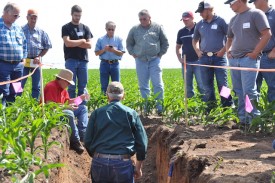 Posted

June 15, 2015

More than 60 farmers and agricultural professionals gathered for a field day at the Kurt and Wayne Kaup farm near Stuart, Neb., Monday, June 15. No-Till on the Plains offered the educational event to help attendees better understand how continuous no-till cropping systems improve soil health.

Attendees examined soil horizons in two pits, one dug in the Kaup's no-till field and the other in a neighbor's conventional tillage field. Dr. Ray Ward, President of Ward Laboratories in Kearney, discussed how continuous no-till improves soil quality and structure, pointing out differences in root structure, organic matter and the effects of microbiology in the two soil pits.

During a rainfall simulation and soil demonstration, Dan Gillespie, No-till Specialist for the Natural Resource Conservation Service in Norfolk, explained raindrop impact and water infiltration using soil samples from no-till and conventional tillage fields. Paul Jasa, Extension Engineer for Nebraska Extension, shared setup tips for no-till planting equipment and the importance of a system-based approach.

Attendees departed the Kaup farm for afternoon sessions at the Atkinson Community Center. Ward returned for a presentation on the benefits of soil testing and technology to gain information on life below the surface. Charles Shapiro, University of Nebraska Agronomy and Horticulture Department, discussed using livestock manure in no-till operations and optimizing fertility in no-till crop rotations.

The event concluded with Rick Bieber, continuous no-till producer from Trail City, S.D. He shared his journey to take over his father's farm and insight gained from years of converting to continuous no-till.

The Stuart Whirlwind Expo resulted from a partnership with The Nebraska Environmental Trust, Nebraska Extension, and the U.S. Department of Agriculture's Natural Resource Conservation Service. Event sponsors included Arrow Seed, CHS, Green Cover Seed and The Seed House in O'Neill.
---