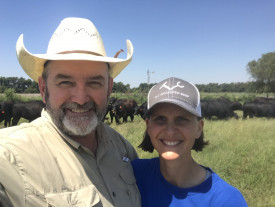 Regenerative Ranchers, Meno, Oklahoma
Annette was born and raised on a fifth generation sheep and row crop farm in the Willamette Valley of western Oregon. She earned her Bachelor's in Animal Science and her Master's degree in Ruminant Nutrition with an emphasis in forages. She spent 10 years in the animal health and nutrition industry before transitioning to work on the farm, raise their girls and consult.
In addition to helping with the production side of their farm, a significant amount of her time is spent on the marketing, sales and distribution of their grassfed beef. Annette is passionate about improving the land, raising high quality beef and making regeneratively-raised beef accessible to consumers.
Mark was born and raised in Northeast Texas where he gained appreciation for the land and cattle as a child on his grandparents' farm. He earned a Bachelor's degree in Agriculture from Louisiana Tech University. He has more than 30 years of experience in sales and marketing of seed.
Currently, he works as Vice President of Forage and Cover Crops for Mountain View Seeds, a subsidiary of Pratum Co-op based in Salem, Oregon.
On his farm in Northwest Oklahoma, he raises triticale seed and grassfed beef. He also serves as President of the Southern Seed Association and a board member of the American Forage and Grassland Council.