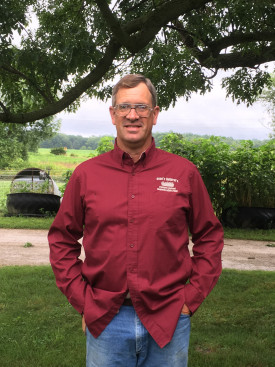 Regenerative Grazer, Missouri
Harry Cope farms in Central Missouri with his wife Rose and our 2 grown children Sabrina and Dustin. 
They run a diversified livestock operation producing beef, pork and lamb. These are marketed both as direct meat sales and commercial animals. 
They grow a limited amount of row crops as milo, corn, cereal rye, wheat and annual forages. They harvest nearly all of these with animals. They have roughly 800 acres of permanent pasture (1/2 seeded diverse natives and 1/2 cool season). They also have 500 acres of timber pasture. 
Harry says, "We are fortunate to be farming on land my great-grandparents land they homesteaded 150 years ago."
 "Our goal is to make our farm highly profitable while returning our soils, as closely as possible, to the condition they were in when they homesteaded, while having an enjoyable lifestyle farming."