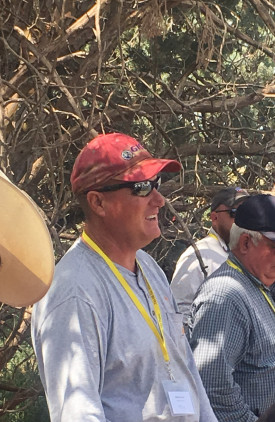 Regenerative Farmer, Muleshoe, Texas
Growing up in the Hill Country of Mason, Texas, Kettner came to Lubbock when he began school at Texas Tech University as an agronomy major. Although it was a big change from the small town northwest of Fredericksburg where he grew up, he fell in love right away with the West Texas scenery and lifestyle.
"Life is just slower, more easy-going out here," Kettner said. "The people here are some of the best you will ever meet."
After graduating from Texas Tech in 1995,Kettner moved back to Mason to raise cattle and farm with his father. However, he could not shake the thought of moving back to the South Plains and starting his own farm. Six years later, his dream became reality. He acquired 300 acres of farmland in Muleshoe, relocated back to the place he loved so much, and began the journey of cultivating a farm
Conservation Through No-Till
Today, 15 years later, Kettner farms over 5,000 acres and is a successful corn, cotton, pumpkin, sorghum and soybean producer. In addition to his diversified crop rotation, Kettner has also implemented a unique farming technique to his operation – no-till farming.
Kettner is a passionate advocate for no-till farming. He had implemented a few no-till farming practices onto his farm after he first started, but he did not realize the importance of it until he attended the No-Till on the Plains Conference in Salina, Kansas, in 2009.
"The conference took me a step further," Kettner said. "Going and listening to the speakers helped me learn that there is a bigger goal at work here."