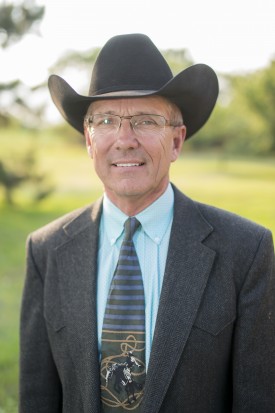 Rancher, No-till Producer, Mckenzie, ND
Blackleg Ranch
Mckenzie, N.D. 58572
Jerry and his wife Renae operate Black Leg Ranch along with their sons Jeremy, Jay, and Jayce Doan. The ranch was homesteaded in 1882 by Jerry's Great Grandfather in what was then Dakota Territory.
They use Holistic Management to operate their ranch regenerating the natural resources and allowing wildlife to flourish. They have made huge strides in improving the soil health of their cropland and native rangeland while improving the bottom line and quality of life for their family.
They operate Rolling Plains Adventures, a full service, hunting operation, Black Leg Events, an Agri­ Tourism operation on the ranch, Black Leg Ranch Meats, offering consumers Audubon certified bird friendly beef and bison products, and Black Leg Brewery, a brewery located on the ranch using local ingredients. These ventures have allowed them to spread a positive message about agriculture to thousands of consumers, including people from all 50 states and 40 foreign countries.
The ranch is a living classroom for many soil health and grazing tours as well as University students and others wanting to learn from across the globe.
Jerry is currently chairman of the N.D. Grazing lands Coalition and a mentor. He is also Governor appointed and Chairman of the N.D. Natural Resources Trust board. He is a board member of Partners for Conservation and an advisory board member of the Nature Conservancy. Jerry is also past chairman of the N.D. Ag Coalition, past chairman of the N.D. Beef Commission, past chairman of the N.D. State Board of Ag Research and Education, past chairman of Rural Leadership N.D., and a past board member of the N.D. Stockmen's Ass. and the National Livestock and Meat Board. He has been a 4-H leader for over four decades.
He has been awarded the Burleigh County Soil Health Award, the N.D. NRCS Award, the N.D. Inaugural Leopold Award, the N.D. Environmental Stewardship Award, the Region VII Environmental Stewardship Award, and the National Environmental Stewardship Award. Jerry has also been awarded as one of the top 100 fresh prospectives in the nation by Farm Credit Services, The Harvest Bowl Agri- Business Award by N.D.S.U., The RLND Leadership Award, and was awarded the National Outstanding Young Farmer Award. Black Leg Ranch was inducted in 2020 into the N.D. Cowboy Hall of Fame. Jerry has been very active on a state and national level as a strong advocate for Agriculture.