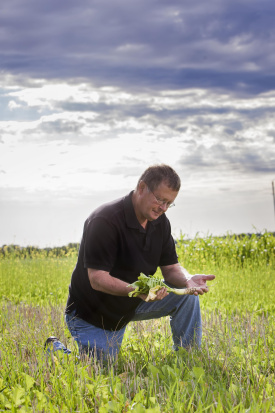 University Nebraska Lincoln
Gary Lesoing-University of Nebraska-Lincoln Extension – Auburn, NE
Area of Focus–Crop Production Nebraska State SARE Coordinator – 2008 - present
In my current position as Nebraska State SARE Coordinator, I provide professional development opportunities for ag educators and farmers across Nebraska in sustainable agriculture. I have served in this position for 15 years. During this time I have brought in over $800,000 in USDA SARE grant funds utilized to provide education in sustainable agriculture. Through this program Nebraska Extension provided strong support in initiating Extension programming and research in soil health and cover crops. This program also supported Extension Educators and other educators on tours in and around Nebraska to learn about sustainable agriculture every year from 2008, except in 2013 and during the pandemic of 2020.  
As an Extension Educator in Nemaha County I provided programming in the 6 county area of southeast Nebraska on cropping system issues. I provide Private Pesticide Applicator Training in Nemaha, Otoe, Cass, Johnson, Richardson, and Pawnee Counties.  Programming focus areas have been SCN (Soybean Cyst Nematode), Herbicide Resistant Weeds, Nutrient Management in Crops, No-till Production and most recently Use of Cover Crops in Cropping Systems. I publish a quarterly ag newsletter that goes out to over 1,625 clientele and is also on-line and provide weekly articles on cropping and horticultural issues and sustainable agriculture to 10 southeast Nebraska local newspapers with a circulation of over 18,000 readers.
In 2006, along with Deb Weitzenkamp, we initiated a Southeast Nebraska Diversified Ag Tour in the southeast part of Nebraska. I spearheaded these tours annually from 2006 through 2019, providing education to clientele about diversified agricultural opportunities in our area.
In 2008, with the help of a SARE Professional Development Grant, we initiated a Farm Beginnings® Program in Nebraska. This program was generally for small, beginning farmers who were interested in farming sustainably. I co-led this program for 8 classes through 2018. Ten sessions each year were held in the winter and spring months over a 4-month period followed by summer tours of sustainable farms. Sessions were held at Syracuse, ENREC (Mead) Weeping Water (Cass County Extension office) and Omaha (Douglas County Extension Office). Approximately 50-60 students completed this program.
 I have represented Nebraska on the Midwest Cover Crop Council Board for the past 8 years and am a member of the NCR Soil Health Nexus and Nebraska Team. I have served as Co-Leader of the Husker Harvest Day Cover Crop/Soil Health Team the past 4 years.