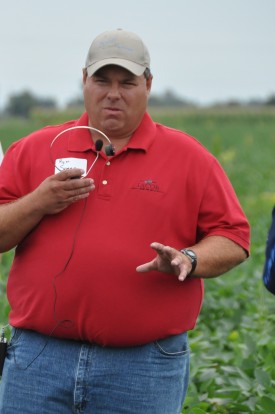 No-till Producer, Sedgwick, Kansas
Ryan Speer joined Jacob Farms and Cattle near Sedgwick, Kansas 18 years ago as a farm manager, and brought the farm into a continuous no-till operation shortly thereafter. He has since become a full partner in the business, implementing a system of production that improves soil health.
Continuous no-till in both dryland and irrigated systems has allowed the farm to grow in acreage while requiring less labor. Increased crop diversity and cover crops have boosted cash crop yields and increased income opportunities. The farms improved soil cover reduces evaporative losses and increases the biological activity.
More recently the farm has integrated cattle grazing cover crops on the cropland. This is being done primarily through cash rent agreements with livestock owners. Ryan is seeing the benefits to both soil health and his income.
Cash crops in the rotations include corn, soybeans, cotton and wheat; they also grow grain sorghum on dryland acres and cover crops. Ryan farms in the Wichita are, which receives about 30-inches of rainfall per year.