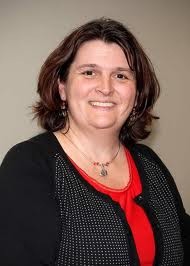 Regional Advisor, Soil Conservation, Canada
Montérégie-Est Regional Directorate
Saint-Hyacinthe, Quebec, Canada
Engineer fertilizes new soil conservation approaches for Eastern Canadian producers
Odette Menard has made a career of helping Eastern Canadian producers take a new look at how they manage their soil. If there's one thing that has defined Odette Menard's career in the field of soil conservation, it's passion — passion for her work, passion for helping producers discover low-disturbance farming practices, and passion for the soil itself.
But passion alone is not always enough to convince skeptical producers of the virtues of farming practices such as zero-till, especially in Eastern Canada, where they are often viewed as a strictly prairie solution. Instead, the agricultural engineer from Saint- Hyacinthe, Quebec and member of the Soil Conservation Hall of Fame backs up her passion with a willingness to challenge producers, to ask them tough questions about their farming practices in order to open their minds to new and different methods.
"I try to help producers think about why they do things the ways they do," she says. "Take tillage, for example. The plough was invented for three reasons: drainage, weed control and improving soil fertility. Today, we have tools other than tillage to help in those areas. So one of my first questions to farmers is, 'Why are you plowing?' Sometimes, they don't know why, other than the fact that they've always done it that way.
TOPIC
Resistance, resilience and recovery in your soils and rhizosphere
It has been proven for many years that no-till is economically feasible, even the first years with a possible yield lost. On the other hand, soil degradation also reduces yields. The challenge is not only to know about compaction, but also how to avoid it, it is not only to know about soil aggregate stability, but also how to improve it, it is not only to know about soil food web but also how to feed them. Through a better knowledge of the soil rhizosphere, we can let our soils work their maximum, and give us high quality and profitable crops.