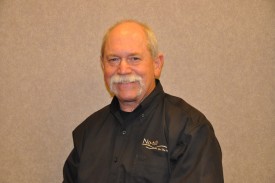 Oklahoma producer/stockman
Tryon, OK
Greg lives with his wife Becky on a small cattle operation in Lincoln County, trying to reclaim what was once a cotton farm. They have a cow-calf operation and experiment with grazing systems.
Greg is a soil scientist working part-time with the Oklahoma Conservation Commission, and is primarily involved with Soil Health issues. He retired from the USDA-NRCS in 2013, after serving as a soil scientist for 36 years in Oklahoma, Alaska, and North Dakota.
He graduated from Oklahoma State University in 1976 with a degree in Soil Science and again in 1999 with his MS degree in Environmental Science.
"For me the lights really came on, with respect to no-till, in 2003 on one of NTOP's whirlwind tours in Oklahoma," Greg says. "I was amazed at how rapidly the soil came back to life in a no-till rotation. A few years later, the effect of cover crops on soil health was another light, 'the blinding effect of the obvious', as someone once said!"
---