January 23, 2017
Location
Bicentennial Center, Salina, KS
Making the Switch to a No-till Systems Approach
We're planning a special workshop on Monday, Jan. 23, for producers who are new to no-till and looking for insights from experienced continuous no-till producers. This special event will take place immediately before our 2017 Winter Conference. 
Registration
Beginners' Session Students* - $45
Beginners' Session - $100
Combination discounts available with Winter Conference
*Students must show valid student ID or proof of enrollment at check-in.
Online registration has ended. Walk-in rates now apply.
Questions?
For registration questions, please contact Rhonda McCurry at mccurry@notill.org or (785) 307-0435.
For exhibitor and sponsor questions, please contact Shannon Krueger at events@notill.org or (785) 210-4525.
Workshop Sponsor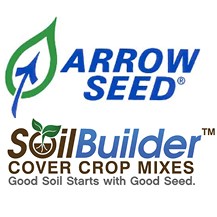 Agenda
9:00 AM Welcome

9:10-9:40 AM Creating the Right Mindset - Bud Davis, Doug Palen

9:45-10:20 AM Soils Demonstrations

10:25-10:55 AM Keeping the Soil Covered - Scott Ravenkamp, Josh Lloyd

11:00-11:35 AM Establishing a Rotation With Diversity - Keith Thompson, Rodney Hern 

11:40 AM-12:30 PM Lunch (provided)

12:30-1:05 PM Getting Your Equipment Optimized - Paul Jasa

1:10-1:45 PM The Value of Integrating Livestock with Cover Crops - Jimmy Emmons, Darin Williams

1:45-2:15 PM Question and Answer

2:15-2:30 PM Break

2:30-3:15 PM Soil Testing, How it Makes No-till More Efficient and Profitable - Dr. Nick Ward

3:20-4:05 PM Soil Biological Testing and Indicators - Lance Gunderson

4:10-4:55 PM Managing Nutrients and Fertility in No-till Soils - Dr. Ray Ward
Downloads
---