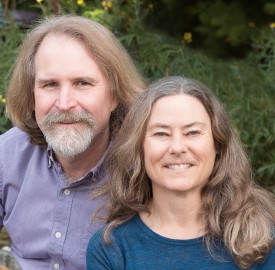 Authors
David R. Montgomery is a MacArthur Fellow and professor of geomorphology at the University of Washington.  He is an internationally recognized geologist who studies landscape evolution and the effects of geological processes on ecological systems and human societies.  He is the author of numerous scientific papers and has been featured in documentary films, network and cable news, and on a wide variety of TV and radio programs.
David has written several popular books including Dirt: The Erosion of Civilizations (2007), which chronicles the role of soil in the evolution of ancient and modern societies. His most recent book is Growing a Revolution: Bringing Our Soil Back to Life (2017).  David's work combines the rigor of science with narrative to share his unique perspective on Earth with readers. 
David holds a Bachelors' degree in geology from Stanford University and a PhD in geomorphology from the University of California, Berkeley.
Anne Biklé is an author, biologist, and gardener whose wide-ranging interests have led her into salmon restoration, environmental planning, and public health.  She uses her broad background and endless fascination with the natural world to investigate and write about connections between people, plants, food, health, and the environment. 
She finds the botanical world particularly enthralling whether coaxing plants into rambunctious growth or nursing them back from the edge of death.  She particularly likes sharing the inner workings of plants and the human body with audiences.  Her work has appeared in magazines, newspapers, and radio and her soil-building practices have been featured in independent and documentary films.
Anne holds Bachelors' degrees in Biology and Natural History from the University of California, Santa Cruz and a Masters Degree in Landscape Architecture from the University of California, Berkeley.
David and Anne are married and live in Seattle.  They collaborated to write The Hidden Half of Nature: The Microbial Roots of Life and Health after buying a house and encountering the dead dirt that came with it. They undertook a yard makeover, and soon found themselves with more questions than answers about their fixer-upper soil. The book blends memoir, history, and science, to explore humanity's tangled relationship with the microbial world and how it influences the way we practice agriculture and medicine.
The "Dirt Trilogy"
The first book in the trilogy, Dirt: The Erosion of Civilizations lays out the plight of soil, The Hidden Half of Nature reveals the insights and understanding from new microbiome science and the implications it has for healing the land—and safeguarding our own health.  In Growing A Revolution: Bringing Our Soil Back to Life, Montgomery shares the stories of farmers who are adopting new practices that demonstrate the potential of agriculture to improve soil.
Biklé and Montgomery are now at work on a capstone book for the Dirt Trilogy that will explore the connections between soil health and human health.