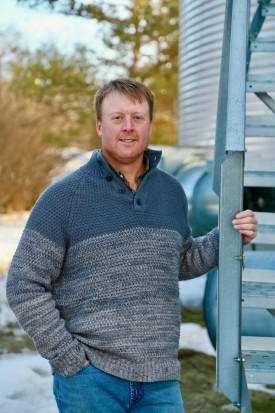 No-till Producer, Saskatchewan, Canada
Derek Axten owns and operates a diversified grain farm in Southern Saskatchewan with his family.  He has implemented innovative ideas to improve sustainability and profitability of the family farm.  While attending  workshops and conferences with his wife, they met  farmers and scientists who taught them to change the way they looked at farming.   This led to their journey towards soil health and regenerating their farmland.  Learning about soil biology and how soil functions, has renewed their passion for farming, and improved the farm's productivity.
Derek operates a no-till farm and has improved soil health by seeding intercrops, companion crops and cover crops.  Durum wheat, oats and rye are his predominant cereals, with mustard and red lentil intercrop, forage peas and mustard intercrop, flax and chickpea intercrop, and large green lentils, faba beans and fenugreek as composition crops. He also grows 280 leased acres of alfalfa hay and contract grazes 300 head of brood cows on more than 900 acres of cover crops in the fall and winter. Increasing the farm's plant diversity and intensity is feeding the soil biology, which in turn is regenerating the land.  Improving soil health has allowed him to reduce synthetic inputs, increase water efficiency and build organic matter.  He has also implemented controlled traffic farming on the farm.   
Breakout Session: Improve Production Efficiency-More Dollars per Acre