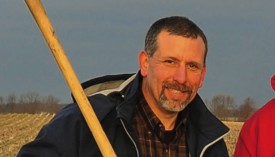 Rodney Rulon, No-till Producer, Arcadia, IN
Rodney has been farming full time since graduation from Purdue University with a B.S. in 1994 and M.S. in 1996 in Agricultural Systems Management. The fourth-generation family farm includes more than 6,000 acres of no-till corn and soybeans, a farrow-to-finish hog operation, seed dealership and several custom service businesses. Since 1989, the Rulons have pursued no- till as a business model and a responsibility. In the late 1990s after achieving what they found to be a good economic production system using no-till combined with intensive input management using GIS and 1-acre grids, the Rulons began to pursue next level soil health by incorporating cover crops and soil amendments such as gypsum. After years of experimenting, they're now seeing the benefits to a highly sustainable production system which produces excellent yields, minimal environmental impact and improved resilience in their soils. 
Cover Crop Economics
Rodney shares his experiences from over 27 years of no-till and 12 years of cover crops on their central Indiana farm. With a wealth of on farm data and experience, the Rulons have put a pencil to the value utilizing cover crops has added to the system. Rodney will discuss the challenges and benefits they attribute to cover crops and the data that backs it up. The Rulon's conclusion will be clear – they can't afford not to plant cover crops!