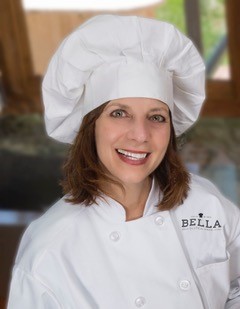 Chef and Owner, Bella Gluten Free, Boulder, Colorado
In 2009, three bellas met at the Wheat Free Gourmet Cooking School in Boulder, CO. Mary (school founder) and Cecilia and Tracy (Le Cordon Bleu culinary students) came together to explore and learn the secrets of beautiful gluten-free cuisine. Sharing their rich Italian heritage (each one had an Aunt Carmel), great passion for delicious food (try stopping them from jabbering about it) and a burning desire to bring something great to the gluten-free diet…it was friendship at first sight.  As a result, a beautiful partnership formed and in 2010 the chefs launched Bella Gluten-Free™. With a mission to bring joy back to people on restricted diets, Bella Gluten-Free™ 100% natural, allergen friendly baking mixes provide "Beautiful Food, Simply Delicious".  Bella Gluten-Free™ is committed to bringing the best allergen friendly mixes to market, mastering taste, texture and nutrition.
At it again, the trio launched Bella Gluten-Free™ Cup-to-Table line in 2015. Using the same whole grain flours and superior ingredients, they developed a range of sweet and savory allergen friendly baking mixes that allow you to make fresh baked products in your home in just minutes.
We care A LOT about people! We care that they need to or they want to eat gluten-free.  We care that they want their gluten-free baked goods to not only to taste good but also they want to know that the food that they are ingesting has been produced with integrity.  We hold ourselves accountable for the integrity and quality of the food that we provide for our consumers. We never settle for second best. And we are proud of the superior baking mixes that we have developed.  We donate a percentage of our sales to Grounded Growth (www.ourgroundedgrowth.com) to support our farmers and regenerative agriculture practices. Our investment covers seed cost for acreage of cover crop to decrease use of chemicals and apply practices that rebuilds the soil, decreases the carbon load and improves the cycle of water to grow our ingredients.  Our partnership with Grounded Growth Network expands upon our core company principles by allowing us to partner with farmer's to grow ingredients using regenerative farming practices. Our support of regenerative agriculture elevates our commitment to consumers adding the focus on working in balanced regenerative ways that sustain the soil's capacity to produce, creating nutrient dense food, and truly contributing to a positive impact in the world.
When you buy one of our baking mixes you give back to generations of farming with purpose, the intention to preserve the land and the natural production of beautiful food!