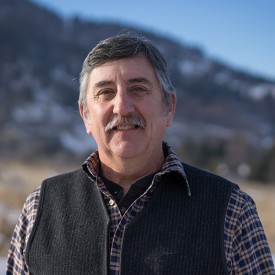 Senior Program Director, Savory Institute
Byron is the Senior Program Director for the Savory Institute. His role involves providing training in Holistic Management for the worldwide network of Savory Institute Hubs and Accredited Professionals. He also provides farm and ranch management consulting for Savory Institute. Byron is a Savory Institute Master Field Professional.
Byron is the founder and managing member of a private consulting firm providing facilitation and training in whole farm planning using Holistic Management™ decision-making, financial planning, ecosystem processes management, planned grazing, ecological monitoring, land planning, policy analysis and development processes, and low stress animal handling in agricultural, natural resource, business, family, and community settings. He has worked with large and small beef and dairy operations as well as with a wide range of other livestock and crop enterprises across North America, Europe, Africa, Asia, and the Mideast.
Byron is the founder and managing member of a private land management company producing and marketing 100% grass-fed and grass-finished, land-improving, beyond-organic beef. He has managed organic and non-organic ranches and farms in Colorado, New Mexico, and Virginia. Grass-based enterprises managed include cattle, veal, bison, sheep, hog, broiler, layer, and turkey. Other enterprises managed include orchard, market garden, draft show horse, hay, guest ranch, horse, and adventure youth/family camp enterprises.
Byron served as a founding Board Member of the Central Colorado Food Shed Alliance, Faculty Innovator Coordinator in Instructional Technology for Colorado Mountain College, Adjunct Instructor of Agriculture/Natural Resource Economics at Colorado Mountain College, Career/job Skills Instructor for the Colorado Correctional Alternative Program, President and Board Member of the Colorado Branch of Holistic Management, Independent Construction Contractor, Camp/Guest Ranch Director, and as a High School Vocational Agriculture Instructor and FFA and Young Farmer Advisor in Colorado.
Byron has an A.A.S. Degree in Outdoor Education from Colorado Mountain College, a B.S. Degree in Vocational Agriculture Education from Colorado State University, and a M.E. Degree in Instructional Technology from Lesley University.
Session: Managing Your Human Resources Holistically