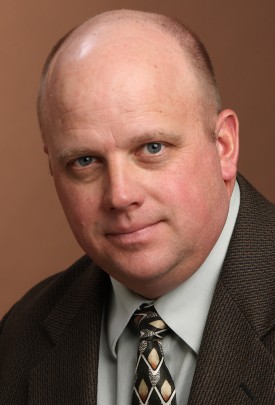 No-till Producer, Ideal, South Dakota
Bryan was born and raised on the family farm in Ideal, SD to Martin and Mary Jorgensen.  He is the fourth of four children. Bryan graduated from Winner High School in 1983.  His passions for agriculture, equipment and crop production led him to get a BS in Mechanized Agriculture from South Dakota State University in 1987.
Upon graduation, Brya returned home to the family farm and married his high school sweetheart, Brenda. They have three children, Nicholas (wife Ashley), Kirsten and Reagan (husband Blake Nielsen).  
Bryan's role in our family farm operation is to plan and execute the cropping plans on 12,000 acres of crop ground.  This includes planning the crop plan which includes up to twelve different crops in rotation as well as selecting and purchasing all of the needed inputs to grow the crops.  His main objective is to improve the overall soil health, productivity and return on investment of the soil assets.  They do this through an extensive no-till program, diverse rotations and the implementation of cover crops.  Along with hs wife Brenda,  partners Cody, and Nicholas, the Jorgenson's own and operate Lazy J Grand Lodge which is a 42 bed all inclusive hunting lodge.
Over the course of his career Bryan has been active in many different organizations and received recognition in several areas of service 
Dakota Lakes Research Farm Board of Directors 1991 - 2011.  Helped to dictate what type of research was needed for farmers in the central part of South Dakota
South Dakota No-Till Association 1990 - 1997.  Served as chairman of the Board of Directors for 2 years.  Helped to promote no-till as a viable alternative means to raise crops in South Dakota and other states
Received the Glen A. Reiner Memorial Award as South Dakota's Outstanding Young Farmer in 1999
South Dakota Soybean Association Board of Directors 2002 - 2004
South Dakota Crop Improvement Association Board of Directors 2010 to present
2015 South Dakota Leopold Conservation Award
Featured in a video promotion campaign titled "This is Farming" sponsored by the South Dakota Corn Utilization Council in 2014 - 2015
Received the Excellence in Agriculture Award sponsored by the South Dakota Corn Utilization Council in 2015
Founding board member of the South Dakota Soil Health Coalition
Featured in the Merit or Myth series on You-Tube discussing no-till, cover crop economics