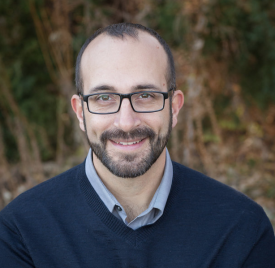 Associate Professor, Kansas State University
Dr. Brian McCornack is an associate professor in the Department of Entomology at Kansas State University with research, extension and teaching responsibilities. He has an integrated research program that facilitates the discovery and application of tangible solutions to emerging pest issues, including endemic and invasive species. Primary interests include the development of ecological, as well as economical, management strategies for arthropods at a landscape scale.
Dr. McCornack has developed a wide range of IPM tools for use on large commercial farms, including widely adopted economic injury levels and thresholds for invasive species, binomial sequential sampling plans for grain sorghum pests, and improved best management practices for economically important pests. Other interests include assessing the impacts of expanding biofuel crop production on ecosystem services like pollinators and biological control agents.
Dr. McCornack's extension responsibilities include building web-based platforms to delivery management information based on event recognition and intelligent alarm technologies. He is currently expanding these platforms to develop social networks that digitally connect farmers with researchers and Extension personnel to enhance delivery of relevant management information and provide established user-networks for improved response to pest incursions.
TOPIC
Sustainable production in feedstock systems relies on selection and placement of crops that efficiently generate biomass without compromising keystone ecosystem services. Farming practices that enhance ecosystem services like pollinators, predators, and other beneficial organisms within these systems have received more attention in recent years. There can be perceived tradeoffs between farm profitability and environmental sustainability, which affects several decisions being made on the farm. For example, using insecticides as "cheap insurance" when commodity prices are high can lead to unwarranted exposure of these chemicals to non-target organisms. On the other hand, deciding not to use chemical controls when pest pressure is high can negatively affect farm profitability. Communicating the value of agronomic practices that benefit ecosystem services is imperative to adoption by farmers and sustainable intensification of food production systems. An integrated approach to pest management is a more sustainable solution to closing the yield gap compared to more intensive strategies. Farming communities can work towards incorporating ecosystem services into broader farmscapes as a long-term goal while maintaining short-term gains. However, this requires changes in human behavior and willingness to adopt new technologies to collect and share on-farm data. This presentation will discuss the challenges of incorporating ecosystem services into on-farm, decision-making related to natural resource use and factors that influence uptake in the midwestt. Key topics will include but are not limited to: 1) evaluating current, integrated strategies to manage primary and secondary pests in the Plains region; 2) exploring new ways to manage existing farmscapes to enhance ecosystem service effectiveness on the farm; and 3) discussing the use of innovative technologies to manage all data needed to make field-level decisions. Building resilient predator and pollinator communities will require an integrated and informed approach to pest management. It will also require a network of stewards capable of evaluating and adopting new production frameworks. 

www.twitter.com/bmccornack
www.facebook.com/kansasbugs