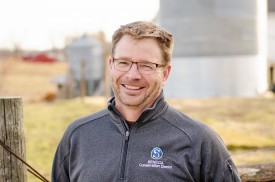 No-till Producer, Tiffin, Ohio
Bret Margraf is a seventeen-year veteran of the Seneca Conservation District in Tiffin, Ohio. His most recent work has involved educating farmers in Seneca and the surrounding counties about the benefits of conservation cropping systems to reduce soil erosion and minimize nutrient losses from farm fields. For almost two decades, Bret has been practicing these efforts on his own farming operation with his dad and three sons. Innovative methods of combining no-till, cover crops and manure has made him a trailblazer of conservation.
Their farm is an Edge of Field research site for the USDA/ARS to monitor the movement of nutrients above and below ground. Efforts to reduce nutrients losses into the Western Lake Erie Basin include multi-crop rotations, nutrient placement and hosting field day events tutoring others.
Bret is a member of the Ohio No-Till Council and is a Certified Crop Advisor.
He and his wife Beth Ann have been married for 22 years and have four children. When not at the office or in a tractor cab, his time is spent at after school events or with his newest soil health efforts – cow/calf operation. You can contact him at bmargraf@conservesenecacounty.com