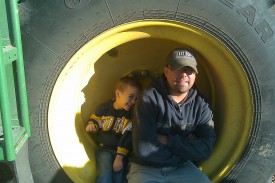 Osage City, Kansas
Ben Thompson joined his Dad Keith and Uncle Doug in the Osage City, Kansas farming operation in 1998. The Thompson's have been in no-till system long enught that Ben doesn't have any tillage experiences.  Following his Dad and Uncle's lead, Ben pushed the farm to reintroduce livestock onto the farm, believing the diverisfication would help financially and agronomically. Ben was right, now the farm has a thriving cattle herd and their soils conitinue to improve. 
The farm is located in east central Kansas near Osage City. Annual average precipitation is 34 inches per year. Their upland soils have shallow topsoil with average to poor water infiltration; most of the soils have a fairly high clay content (20-40%). 
The soils have very poor water holding capacity – 2-4 inches or about 10 days worth of water. The Thompson's farming practices has evolved over the years from full tillage to regenerative farming. They now use a robust crop rotation, several species in their cover crop mixes and full integration of livestock. They are now implement 3-5 years perrenial grazing in their crop rotation.