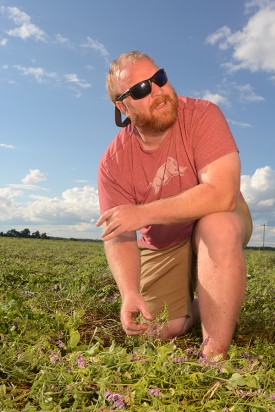 No-till producer, Cotton Plant, Arkansas
Adam Chappell is a fourth generation farmer in Cotton Plant, AR farming around 9,000 acres in partnership with his brother, Seth Chappell.  They grew up in Cotton Plant, working on the farm from an early age.  Both went to college with ideas of leaving the farm, but it called them back home in 2005 when they joined their father's operation.  Their father, Dewayne Chappell, has since retired, but the brothers continued on, farming cotton, corn, soybeans, rice and are also partners in a produce operation with Dr. Frank Groves. 
Adam earned a B.S in Botany from Arkansas State and an M.S. in Entomology from the U of A.  During this time, he developed an interest in research and ecological principles that led him to question the conventional methods of farming.  Recognizing the shrinking margins in southern row crop agriculture, Adam looked for a way to cut costs through cultural means.  This combined with the need to control herbicide-resistant weeds, such as palmer amaranth, led to experimenting with cover crops and a passion for soil health.  They now have 8,000+ acres planted to covers and utilize a no-till system.  The change from conventional tillage and traditional southern row crop farming to no-till and covers has allowed them to maintain top yields in the area and reduce input costs significantly.
Adam believes that the most dangerous phrase in our language is "We've always done it this way".  With this mindset, he continues to try new things and push the envelope of no-till and cover crops.